If a PLC should fail, it will take a great deal of time to restore the system, and there will be losses due to the shutdown of operations. We recommend preventive maintenance of PLCs before this happens. We can replace old PLCs that have been discontinued with the latest models, or replace PLCs with those from other manufacturers, so please contact us.
Information needed for PLC replacement
PLC manufacturer and model
Model of input/output/advanced function unit
Manufacturer and model of touch panel
Specifications of communication and network
This is the minimum information that is required to proceed with the replacement of the PLC.
Documents and data required for PLC replacement
Electrical drawings of existing equipment
Ladder diagram of PLC
Touch panel data
Photographs of existing equipment and control panels
Having detailed documents and data can shorten the time for preliminary investigation and study, and allow for a smooth response. In many cases, there are no documents or data left for older equipment. In such cases, we will conduct a preliminary survey to understand the current situation and back up the data.
PLC replacement case study
Food factory/Processing equipment
PLC: Update from Fuji Electric FPB56R to Fuji Electric NP1PM-48R
Number of IO points: 56 points
Food factory/Palletizer
PLC: Updated from OMRON CQM1-CPU21 to OMRON CJ2M-CPU33
TP: Updated from OMRON NT20S-ST121-V3 to OMRON NB3Q-TW01B
Number of IO points: 112 points
Food factory / Transportation equipment
PLC: Updated from OMRON C28P-EDR-B to OMRON CP1E-E30DR-A
Number of IO points: 28 points
Auto parts factory/Processing equipment
PLC: Upgrade from Mitsubishi F1-60MR to Mitsubishi FX3G-60MR/ES
Number of IO points: 60 points
Automobile factory/Manufacturing line
PLC: Updated from OMRON CS1G-CPU42H to OMRON CJ2M-CPU33
Communication unit: Controller Link, Ethernet
Number of IO points: 336 points
Automobile factory/Assembly equipment
PLC: Updated from OMRON C200H-CPU01 to OMRON CJ2M-CPU31
Number of IO points: 64 points
PLC and control equipment replacement work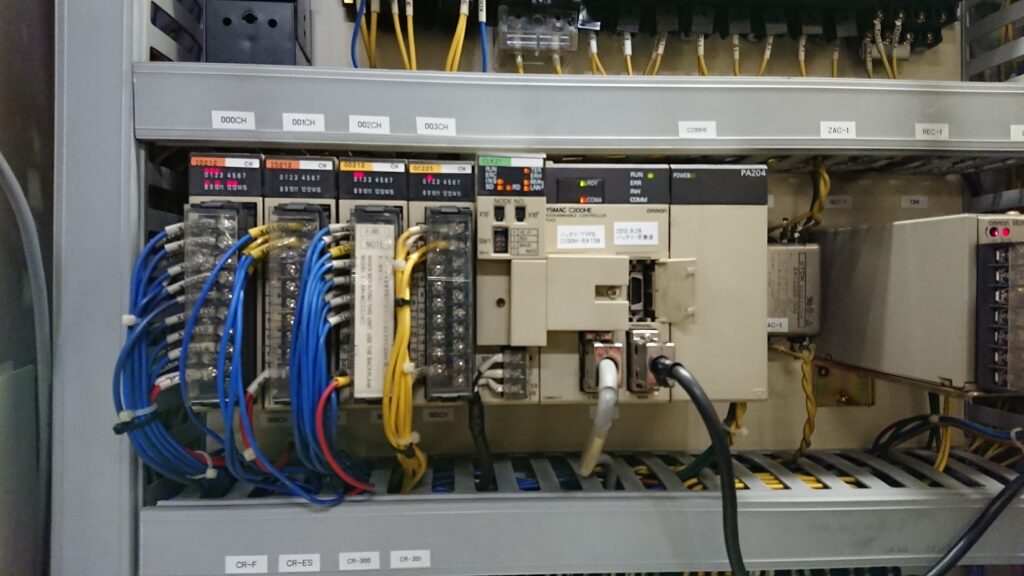 We recommend replacement for obsolete or aging PLCs, touch panels, servo amplifiers, inverters, and other control devices before they break down.


Points to note when replacing the PLC
If the equipment to be replaced is communicating with other equipment via a network, it is necessary to stop the equipment under the network. In addition, if the communication specifications of the PLC to be replaced are changed, the network may not be able to communicate, and in the worst case, the equipment may stop operating. In order to prevent this from happening, it is necessary to conduct a preliminary survey and carefully understand the current situation.
PLC replacement support area
・Japan
・Overseas (China/Hong Kong/Macau/Korea/Taiwan/Singapore/Malaysia/Thailand/Vietnam/Others)
We are also available in other areas, so please feel free to contact us.